Check Out Our Parts Center for Your Next Project in Broomall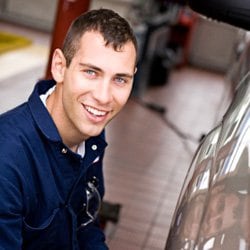 At Pacifico Maple Ford, our dedication goes beyond the sale of your vehicle. We're committed to providing excellent customer service for as long as you need our care. We have an outstanding parts center that can provide authentic OEM parts and accessories to complete your next repair or upgrade project. We can also supply the parts required for more extensive jobs that are performed in our service center.
Why Choose Our Parts Center Near Havertown
The benefit in securing your parts order with us is that you can depend on getting quality parts and accessories that are meant to work in your specific new vehicle.
There's no guesswork when it comes to what we supply. Aftermarket parts can be a risk because they may not function properly or last as long as they should. Aftermarket products are made to fit various makes and models, so they may not perform quite the way they should. Their quality and craftsmanship also cannot be guaranteed. We stand behind our factory-backed products. That's because we know they're built to perform efficiently, and you enhance safety for as long as you are driving around the Haverford and Springfield, PA areas.
If you want the best for your vehicle, it's important to find a supplier that provides parts they can vouch for. You also want experts who know parts, inside and out. If you're not well-versed in automotive products, ordering the right part or accessories can be a real challenge. Our staff is knowledgeable about every step of the parts process. Combined with an extensive parts database, their insight can find and obtain the best parts for your particular need.
We carry an extensive inventory of various parts for many of the most common jobs. Our goal is to have the parts you need on hand so that your job can be completed in a timely and efficient manner. If need be, we can order specific parts as well. Visit our website to learn more about our parts center.